SYDNEY AFL ROUND 1 2008 - A Marathon Season Opener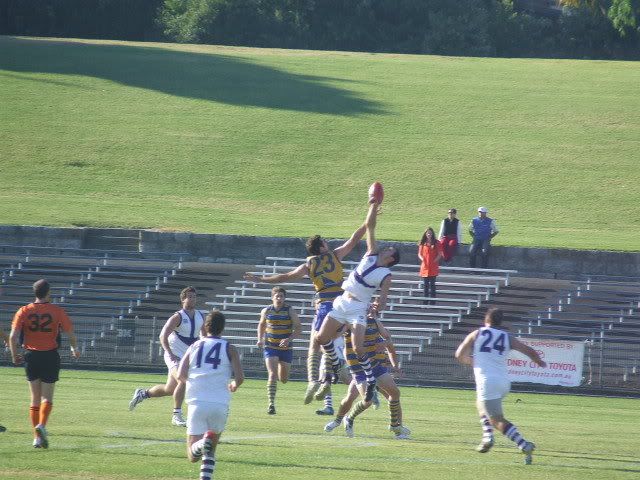 The Sydney AFL season commenced on Saturday; and in a new innovation all senior games were played back-to-back in a football marathon at Henson Park. For the football diehards, it presented a unique opportunity to see every team's seasons commence, to see how each team's new recruits are fitting in and an early insight into the team's style for the year ahead.

The first match on the card was Sydney Uni v Balmain. In their first season back in Premier Division last year the Students had shown a marked improvement as the season progressed; and had recruited well over the off-season. And it was one of their new recruits, rep forward Mark Egan, who was paid an early free kick 40 metres out and converted to record the first goal of the 2008 season. Their opponents, Balmain, had been unable to win a match in 2007 and boasted a new-look lineup with several new faces and wearing the white Fremantle-style away jumper.
Sydney Uni got off to a quick start, with 6 goals to 2 in the opening term giving them a 23-point lead at the first change. But 2 downfield free kicks to Dockers' coach Damian Hall in the opening minutes of the second term quickly cut the margin back to 11 points. But, just when it looked like the Dockers were a chance to work their way back into the contest, they gave away a free kick inside the defensive 50 metre line to set up Brydon Coles; and when Egan on the run converted a minute later the quarter-time margin was restored. Another 4 goals before the long break set up a lead for the Students that Balmain were never a chance to recover.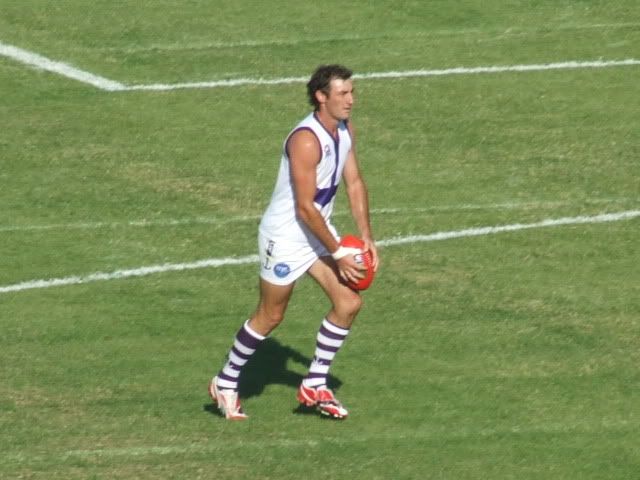 The final margin was 63 points, a solid opening win for Sydney Uni. The Students would have been delighted with how the new players fit so easily within the team lineup, while Balmain still have some work to do to get their team to gel. Chris McLachlan and Alex Lee with 4 goals each were Sydney Uni's top goalkickers, while Andrew Kraefft and Frank Punch were prominent for the Students. Damian Hall and Ryan Officer with 3 apiece were Balmain's top goalscorers, while new recruits Troy Parker and Janis Blums were among Balmain's best.
Second up was Wests v Wollongong, two sides with new coaches for 2008. Salem Kassem took control of the clipboard for the Magpies, and chose to sit in the seats near the walkway in front of the canteen rather than on the bench; while former Southern Sharks leader Jason Philp was coaching the Lions for the first time.
Wests had the vast majority of play in the first half, but some straight kicking kept the Lions in the contest, holding the margin to just 11 points at the long break. But the premiership quarter was where the Magpies were able to make their breakaway. Matt Withers, back in the black and white after a year at Campbelltown, had been a dangerous target in the first half, but the Wests forward line opened up in the second half. A strong mark and goal to Medair Kassem, a mark on a tight angle to Camerson Frence, an advantage free to Matt Eurell within a 5-minute period put the Magpies 5 goals ahead. Adam McConnochie had a chance to get a goal back after a clever intercept, but his shot went just wide; and a bungled kick-in a few minutes later going straight to Fiddler gave Wests an insurmountable lead.

The Magpies finished with a 38-point win; a result that, after missing out on finals action last year, would have rekindled hopes that Wests could take part in this year's playoffs. For Wollongong, there were some positive signs for them, especially in the first half; but the number of turnovers and unforced errors would be a concern for Jason Philp. Matt Withers and Matt Eurell kicked 4 each for the Magpies, while Medair and Eid Kassem were among their best. For Wollongong, Adam McConnochie's 3 goals was their highest goalscoring contribution, while Clint Wells across the half-back line was a solid contributor.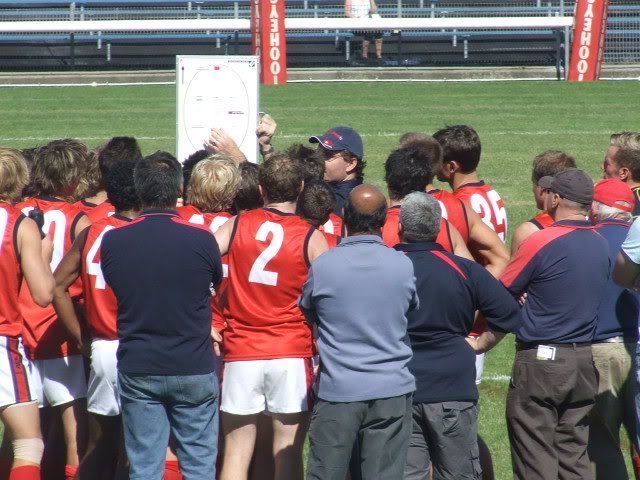 Third game on the program was Pennant Hills v Campbelltown, a match that was to be the most entertaining of the day. Having lost plenty of players over the off-season, new Campbelltown coach Steve Bird was forced to rebuild in 2008 but looks to have developed a side that will have a real crack this season. Pennant Hills led for much of the game, but the Blues were hard to shake off and the three-quarter time margin was just one point. But shortly before the siren, Chris Lees was given 15 in the bin, an absence that was to cost Campbelltown dearly.
Within seconds of the restart for the last quarter, a snap over the shoulder by Jeff Talbot had put Campbelltown in front, and the Blues had hopes of pulling off an unlikely victory. But within a minute of the restart, Alex Goodall had a quick reply. A 50m penalty to Crisfield, a bomb from 50 metres by Bilbe, a mark 30 out from Goodall, some clever crumbing from Campbell and a 50m penalty to Campbell, all within 10 minutes, broke the back of the game and ensured the Demons would, as they have every season since 2004, record a victory in the opening round.
Pennant Hills' final margin was 33 points, a margin that may have flattered the Demons slightly after what had been an even contest for much of the game; but when the game was there to be won it was the class of Pennant Hills that stood up and were counted. For Campbelltown, although they were defeated, the fighting spirit they displayed will serve them in good stead in 2008. Nick Campbell's 5 goals were the difference on the scoreboard between the sides, taking the young Demon to the top of the goalkicking table. Youngster Nick Trestrail and captain Seb Parker were among Pennant Hills' best, while Campbelltown look to have unearthed a promising ruckman in Ashley Condon.
Uni NSW-Eastern Suburbs unveiled a new coach in Terry Mudge, a new playing strip with UNSW blue and white at the front and East Sydney black and gold at the back, and a new-look lineup bolstered with some well-targetted recruiting. Their opponents East Coast Eagles had also recruited heavily over the off-season, with Glenn Garner returning to the club he played half a season at in 2005 as coach.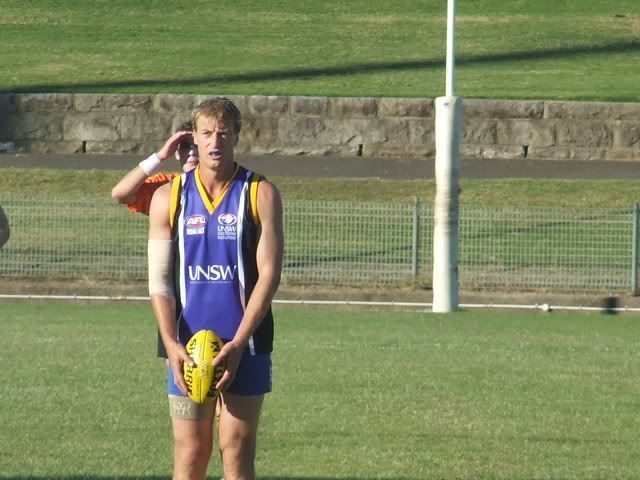 UNSW-ES got the early break, with 6 goals to 1 setting up a match-winning break; and although the Eagles won each of the last 3 quarters they were never a chance to make up the deficit. The Bulldogs again had Brad Abbott up forward, the veteran proving a handy target with 5 goals, while young guns Jeremy Kiel and Dane Rampe also played solid games for UNSW-ES. Adam Floyd with 3 goals was East Coast's top goalkicker, while the Eagles were also well served by plenty of possession from Luke Stanford and Phil Entwisle.
For UNSW-ES it was a pleasing result, with the new faces having integrated well into the Bulldogs' lineup, and this result gives them genuine hope of returning to finals action after a 2-year absence. East Coast's best form in 2008 is yet to come, but the fact they didn't capitulate after conceding an early lead, and fought the game right out to the fnish, would have pleased Glenn Garner and given the Eagles confidence they can bounce back over the weeks ahead.

By now, day had turned into night and it was time for the last match of the round, the grand final replay. North Shore had taken the ultimate prize last season, but an exodus of players over the off-season gave the Crows an opportunity to get some revenge in the opening round of 2008.
In a low-scoring game, both sides struggled to get their game plans working, with both sides committing more skill errors and turnovers than would normally be expected. Inaccuracy in front of goals was also costly, with both sides struggling to convert their opportunities.
North Shore led for much of the night, but were never able to shake off the Crows; and St George lifted in the last quarter, and when Peter Dugmore finally managed to put his goalkicking woes behind him midway through the last quarter to kick his second, the Crows were in front. The Bombers drove the ball forward, and for several agonising minutes the ball was camped on their forward line with the clock ticking away before St George steadied to drive the ball forward and score a goal after the siren to make the final margin 7 points.
For the Crows, the result gave them some payback for last year's decider; but more importantly it gave them a crucial 4 points to get their 2008 campaign off to a solid start. The experienced hands of Shineberg, Donohue and Wilsen played important roles in getting the Crows over the line; and although there is still plenty of improvement in this Crows side for 2008 they have the opening round 4 points. For North Shore, it was a very young lineup with 7 players making their senior debut, but further improvement over the weeks ahead as the new players feel their way in senior football should see the Bombers remain competitive in 2008.



Sydney University 6.3 12.7 17.12 20.14 (134)
Balmain 2.2 4.4 6.6 10.11 (71)
Goals : Sydney Uni - C McLachlan 4, A Lee 4, M Egan 3, J Carr 3, B Coles 2, S Crichton, B Mankarious, A Wilson, R Wood. Balmain - D Hall 3, R Officer 3, D Napper, D Turner, N Darvill, E Davis.

Western Suburbs 4.5 8.7 13.12 16.17 (113)
Wollongong 3.1 7.2 9.6 11.9 (75)
Goals : Wests - M Withers 4, M Eurell 4, E Kassem 2, M Kassem 2, C Frence, N Scarfo, M Frail, B Bray. Wollongong - A McConnochie 3, S Dennis 2, T Bartlett 2, S Dowling, B Patterson, G Batty.
Pennant Hills 2.4 5.8 8.13 16.17 (113)
Campbelltown 2.5 6.9 8.12 11.14 (80)
Goals : Pennant Hills - N Campbell 5, M Carey 2, C Setford 2, A Crisfield, K Wright, M Aitken, A Goodall, J Duncan, J Moriatis, L Bilbe. Campbelltown - M Irving 2, T Wright 2, L Coughlan 2, B Reid, J Talbot, C Lees, C Fretwell, G Snaidero.
Uni NSW-Eastern Suburbs 6.3 9.3 11.3 15.4 (94)
East Coast Eagles 1.2 4.7 6.10 10.12 (72)
Goals : UNSW-ES - B Abbott 5, D Rampe 2, J Kiel 2, B Sutton, P Kefalas, T Linehan, T Luff, O Sidlo-Jones, L Jarjoura. East Coast - A Floyd 3, G Garner 2, L Stanford 2, B Rogers, M Sankey, G Seebeck.
St George 3.1 4.7 6.9 9.13 (67)
North Shore 2.5 5.8 7.11 8.12 (60)
Goals : St George - P Dugmore 2, B Bedwell 2, D Ryan, D Donohue, S Demir, A Low, B Addison. North Shore - A Lowes 2, M Wilson, M Livy, A Harry, M Cowell, M Thompson, A Kallos.
| | | | | | | | | | |
| --- | --- | --- | --- | --- | --- | --- | --- | --- | --- |
| | Played | Won | Drawn | Lost | For | Against | Pts | %age | Streak |
| Sydney University | 1 | 1 | 0 | 0 | 134 | 71 | 4 | 188.73 | W1 |
| Western Suburbs | 1 | 1 | 0 | 0 | 113 | 75 | 4 | 150.67 | W1 |
| Pennant Hills | 1 | 1 | 0 | 0 | 113 | 80 | 4 | 141.25 | W1 |
| UNSW-ES | 1 | 1 | 0 | 0 | 94 | 72 | 4 | 130.56 | W1 |
| St George | 1 | 1 | 0 | 0 | 67 | 60 | 4 | 111.67 | W1 |
| North Shore | 1 | 0 | 0 | 1 | 60 | 67 | 0 | 89.55 | L1 |
| East Coast Eagles | 1 | 0 | 0 | 1 | 72 | 94 | 0 | 76.60 | L1 |
| Campbelltown | 1 | 0 | 0 | 1 | 80 | 113 | 0 | 70.80 | L1 |
| Wollongong | 1 | 0 | 0 | 1 | 75 | 113 | 0 | 66.37 | L1 |
| Balmain | 1 | 0 | 0 | 1 | 71 | 134 | 0 | 52.99 | L1 |
Under 18s Premier:
St George 11.12 (78) d St Ignatius Riverview 4.8 (32)
NEXT WEEK'S FIXTURES (Lurker's Kiss of Death in bold):
Premier Division:
Saturday 12th April (Seniors 2:10pm, Reserves 12pm)
Drummoyne Oval - Balmain v UNSW-ES
Gore Hill Oval - North Shore v Pennant Hills
North Dalton Oval - Wollongong v Sydney Uni
Sunday 13th April (Seniors 2:10pm, Reserves 12pm)
Olds Park - St George v East Coast Eagles
Wagener Oval - Western Suburbs v Campbelltown.
First Division:
Saturday 12th April (Seniors 2:10pm, Reserves 12pm)
Greygums Oval - Penrith v Camden
Gwawley Park - Southern Sharks v NorWest Jets
Weldon Oval - Manly-Warringah v UTS
Macquarie University Oval - Macquarie Uni v Holroyd-Parramatta
Second Division:
Saturday 12th April
Macquarie Uni Oval - Macquarie Uni v UNSW-ES Whales (8:15am)
Gipps Rd Oval - Holroyd-Parramatta v Sydney Uni Red (10am)
Pittwater No 5 - Manly-Warringah v Moorebank Sports (10am)
Village Green - UNSW-ES Bulldogs v Sydney Uni Blue (10am)
Sunday 13th April
Ern Holmes Oval - Pennant Hills v UTS (10am)
Under 18s Premier:
Friday 11th April
Macquarie Uni Oval - Balmain v St Ignatius Riverview (7pm)
Saturday 12th April
Gore Hill Oval - North Shore Bombers v Pennant Hills (10am)
North Dalton Oval - Wollongong v North Shore Bears (10am)
Sunday 13th April
Olds Park - St George v East Coast Eagles (10am)
Wagener Oval - Western Suburbs v Campbelltown (10am)
Under 18s Challenge:
Saturday 12th April
Greygums Oval - Penrith v Moorebank Sports (10am)
Gwawley Park - Southern Sharks v UNSW-ES (10am)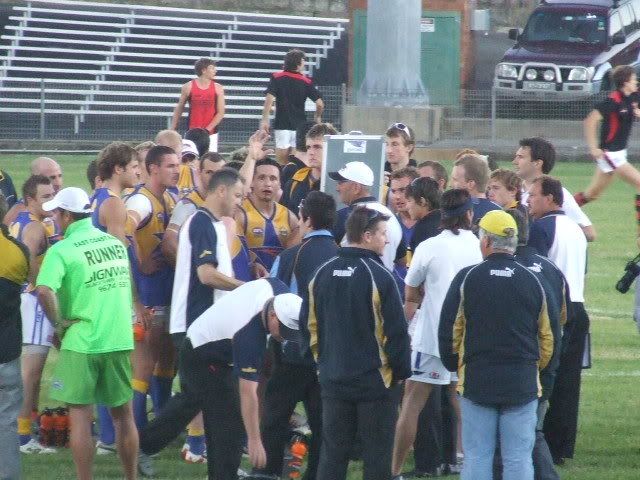 Weldon Oval - Manly-Warringah v Pennant Hills (10am)
Macquarie Uni Oval - Macquarie Uni v East Coast Eagles (10:15am)
RWO MATCH OF THE ROUND:
It was a good opening round victory for Wests, with their lineup too good when it mattered for Wollongong. This week the Magpies will be visited by a Campbelltown side that, although they were defeated by Pennant Hills, put up a determined performance. For both sides, a key test to their fortunes for 2008 will be how they can back up strong performances and whether they can perform impressively every week. In these early rounds, a chance to make an impression on the ladder can do wonders for confidence levels for the season ahead.
It's a Sunday afternoon match at Wagener Oval; with the reserves commencing at 12 noon and the seniors at 2:10pm.